Beretta 92
All parts listed in this category are specific to the Beretta 92 Pistol unless otherwise noted. Click on any part number highlighted in RED to view specific details or to purchase online. It is recommended that all parts be fit by a qualified gunsmith. Not all parts that are available for online purchase are shown on the schematic. Please scroll down for a complete list of all parts available.
Beretta 92 Information
Know Your Beretta 92
Know Your Beretta 92
The production of the Beretta 92 pistol began in 1975. It has gone through many changes over the years and is currently still in production in several different configurations.
The information below is critical must have knowledge necessary for ordering parts, grips, and accessories for your Beretta 92.
"Key Configuration Types" of the Model 92
Model 92 ---Manufactured 1975 through 1976
Model 92S ---Manufactured 1977 through 1979
Model 92SB ---Manufactured 1980 through 1985
Model 92F ---Manufactured 1985 through present
What "Configuration Type", is your Beretta 92?
Model 92
The First Generation. Approximately 5,000 of these were made. Frame mounted safety and bottom mounted magazine release (See Figure 1).
Figure 1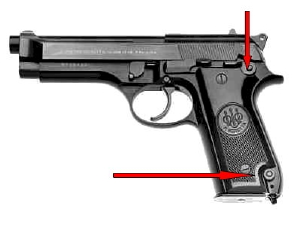 Model 92S
Second Generation Model 92. Same as the Model 92 with several key modifications most important of which was the new Slide mounted safety and decocking lever. Also features a bottom mounted magazine release (See Figure 2).
Figure 2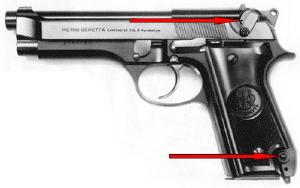 Model 92SB
The Third Generation of the Model 92 also referred to as the 92SB-1. Two grip options offered - The 92SB-P which had plastic grips and the 92SB-W which featured wood grips. Includes the same features as the 92S but Beretta once again made some important modifications. They added a firing pin block and moved the magazine release from the lower grip to just below the trigger guard. Beretta also added a disassembly key and the ambidextrous safety lever (See Figure 3).
Figure 3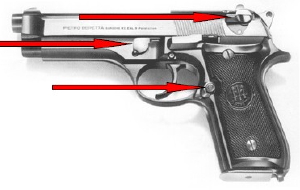 Model 92F
First referred to as the 92SB-F, the "F" designating U.S. Government Federal testing, this model was identical to the 92SB with some very specific combat modifications including the squared off trigger guard to improve two handed shooting, reconfigured frame in front of the grip to aid in aiming, extended magazine base, chromed the barrel bore and put a new finish on the slide called Bruniton to provide better corrosion protection than the standard blue (See Figure 4). Also referred to as the 92FS the 92F-P (Plastic Grip), and the 92F-W (Wood Grips).
Figure 4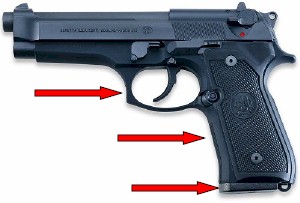 Variations of the Beretta 92
Calibers
Model 92 ---9mm Parabellum
Model 96 ---.40 S & W
Model 98 ---9 X 21mm IMI
Model 98F ---.30 Luger
Modes of Operation
"F" ---Standard
"G" ---No Safety
"D" ---Double Action no Safety
The Beretta 92 is available in over 50 different configurations but we have tried to include all of the major variations in this information.
Thank you very much for taking the time to review the above information. If you are in need of more assistance or you have found the above information a useful shopping tool please contact us at customerservice@midwestgunworks.com