Beretta Gunsmithing
BERETTA AUTHORIZED SERVICE CENTER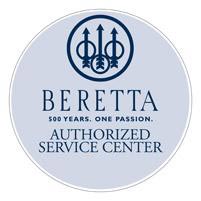 Midwest Gun Works, a leader in expert gunsmithing, service, and repair will put in the quality work to address any issue you have with your Beretta pistol, rifle, or shotgun. Authorized as a Beretta Service Center, MGW has the proven experience and know-how to expertly service your M9, APX, Nano, Cheetah, and all other Beretta pistol models as well as all Beretta rifle models like the Mato or CX4. Our knowledgeable service experts are well versed in Beretta shotguns; A300, 391 Xtrema, 620, 690, 1200, SV10, or any other model Beretta makes, our gunsmiths will get it into top operation condition. With many years of quality Beretta repair under their belts, our gunsmiths can get your trusted rifle, pistol, or shotgun performing back to factory new. The Beretta gunsmithing services extend to match grade performance upgrades, aesthetic features, and a wide range of comfort improvements for a more reliable and enjoyable shooting experience.
MGW offers general firearm repair along with both OEM and aftermarket parts replacement and fitting. Broken Part? Lost spring? MGW stocks thousands of brand name parts both OEM and aftermarket performance upgrade components. General Repair is billed at hourly rate plus part costs.
The VIP (Very Important Pistol) Package includes:
Complete disassembly, ultrasonic cleaning and inspection of all parts
Polishing of the breech face, feed ramp and chamber
Smoothing of slide to frame fit
Installation of performance spring kit
Throat and recrown barrel (11-degree target crown)
The VIS (Very Important Shotgun) Package Includes:
Complete disassembly, ultrasonic cleaning and inspection of all parts
Installation of the Patented Stainless Steel Sure Cycle System
OEM drive springs replaced with Sure Cycle Stainless Steel springs
High strength Alloy Anodized follower and plug where available
Bolt rail clearance machining and lapping
Polishing of the bolt cam surface
Extractor sharpening
O-Ring replacement where applicable
Sure Cycle Piston Seal Operation where applicable
Using proper techniques and tools are key in correct pistol, shotgun, and rifle sight installation. Whether you are installing night sights, suppressor height sights, a new scope, or just replacing OEM sights for a different outline or sight picture. MGW stocks hundreds of firearm sights & scopes and can help with most types of aftermarket and OEM sight installation.
A customized trigger system allows for less creep, a more defined trigger squeeze and a lighter trigger pull. All of which will increase accuracy and ease of use. This is a must have for serious shooters, or for newer shooters looking to up their game. Have us tweak your rifle, pistol, or shotgun with trigger work for an unparalleled addition to performance and operation.
Very few shops across the country know double guns like MGW. We take pride in rebuilding Over/Under and Side-by-Side shotguns. It is a time intensive job that most will not attempt. We re-build both competition and hunting models that have extensive use and round counts. In most cases it is a complete tear down and a process of welding the locking bolt and surface grinding back to the proper dimensions. Refitting the locking bolt and resetting and tightening of the hinge surfaces, timing the ejectors and replacing top lever and mainsprings are all part of the job as well. Typically when finished the firearm will be tight, the top lever in the right hand position and require a break in period too, much like when it was factory new.
No Matter the reason you are adding or replacing a recoil pad, done properly the new pad will fit clean and flush. The stocks heel and toe will meet the new recoil pad with a tight flush finish where the base of the pad's lines are uninterrupted and the pad will look as an extension of the stock. MGW installs hundreds of recoil pads per year both OEM and aftermarket upgraded recoil pads from manufacturers such as Pachmayr and Kick-Eez.

*Pad & Spacers Sold Separately
MGW is simply the best in the business when it comes to stock and forearm finishing for rifles and shotguns. Known nationwide for some of the best restorations on some of the finest firearms made. With different finish options available MGW can determine what finish best meets the OEM look you want on the stock and forend project you have.

We offer three different styles of finish - A high gloss polyurethane finish, a spray on polyurethane satin finish and a hand rubbed oil finish.
Installing the shotgun or rifle sling swivel using the right tools will ensure a perfectly positioned, straight and centered eyelet counter sunk to factory dimensions.
The expert gunsmiths at MGW can perform general cleaning and repair on any Beretta pistol, shotgun, or rifle model. With a full line of factory original parts straight from the source and high performance aftermarket components for many models, you can rest assured that only quality parts will be used when servicing your firearm. Take advantage of MGW craftsmanship when requiring performance upgrades.

Our gunsmiths offer barrel crowning and feed ramp polishing for pistols to ensure optimal performance with every shot. Trigger Work is another key service to help you get both smooth and reliable trigger pulls for your rifle, shotgun, or pistol. Outfit your rifle or shotgun with new or re-done wood components and also have us throw on a proper sling eyelet for convenient firearm carrying. Personalize your Beretta with a full selection of Cerakote finishing options, bluing, case coloring, and more. Our gunsmiths can also install new sights and scopes to your favorite Beretta; whether you want night sights, suppressor height sights, a powerful hunting scope, enhanced shotgun beads, or OEM sights, our gunsmiths will get them installed properly and securely.

View all of our gunsmithing options by clicking the "All Gunsmithing Services" button below.