Browning B-80
All parts listed in this category are specific to the Browning B-80 Shotgun unless otherwise noted. Click on any part number highlighted in RED to view specific details or to purchase online. It is recommended that all parts be fit by a qualified gunsmith. Not all parts that are available for online purchase are shown on the schematic. Please scroll down for a complete list of all parts available.
Browning B-80 Information
Date & Know Your Browning B-80 Shotgun
Date & Know Your Browning B-80 Shotgun
The production of the B-80 Automatic Shotgun began in 1981. Production ceased in 1988.
Use the picture below to locate the serial number on your Browning B-80 Shotgun.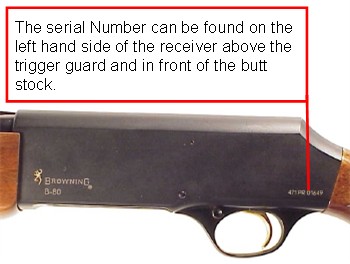 Historic Information (1981-1988)
Serial Number Info

In 1976 Browning re-standardized its serial number identification. The B-80 went out of production in 1987.

Serial Number beginning with 01001 at the start of each year.

Date of Manufacture is a two digit code:
Z=1, Y=2, X=3, W=4, V=5, T=6, R=7, P=8, N=9, M=0

Serial Number Example:

451PM01001

This would be a B-80, manufactured in 1980 with the serial number 01001.